Find peace, comfort and wifi connection
For individuals, couples, groups and corporate events
Panský dům Guesthouse *** in Rožmitál pod Třemšínem
We are a small cosy guesthouse run by Archdiocese of Prague. You can find us in the historical centre of Rožmitál pod Třemšínem, a charming small city in the midst of Protected Landscape Area Brdy.
The area is popular for hiking and cycling, sightseeing tours or enjoying the beautiful nature, especially forests in the former Military Area Brdy, which is open to the public now.
The guesthouse features 20 rooms with bathrooms, TV and Wi-Fi. One double room is fully suited for disabled guests. You can enjoy traditional rich breakfast during your stay and we can provide you some delicious Czech specialities for lunch or dinner, if you wish.
The whole house is non-smoking. Guests can enjoy a terrace, private parking, storage for bikes or ski. Bike hire is available at the accommodation, as well as board games and a piano. A very special facility of our house is a former chapel, which is now used as a private lounge bar.
Maximum capacity is 45 guests at once.
Come and visit us in Rožmitál pod Třemšínem!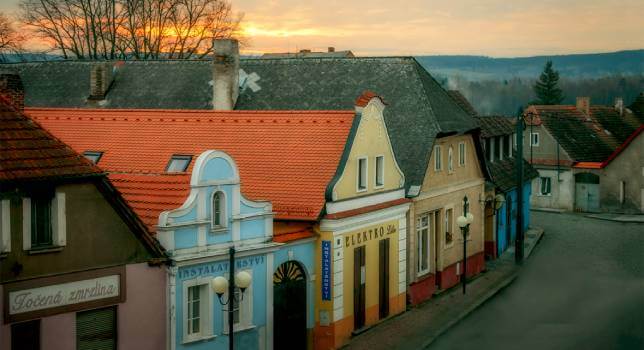 Město Rožmitál pod Třemšínem
Leží v jihozápadní části Brd 17 km od Příbrami, rozprostírá se v krásném údolí na úpatí vrchu Třemšína (827 m) a nabízí mnoho zajímavých památek a míst k vidění.
Město je spojeno s hudebním skladatelem Jakubem Janem Rybou, který zde roku 1796 poprvé zahrál v místním farním kostele Povýšení sv. Kříže slavnou Českou mši vánoční.
Za návštěvu stojí také barokní kostel sv. Jana Nepomuckého nebo alej Johanky z Rožmitálu. Městu vévodí renesanční zámek, v minulosti majetek slavných Lvů z Rožmitála, který je však pro veřejnost uzavřen.
Spokojenost | Jiří
Personál byl velice vstřícný. Ikdyž v penzionu není restaurace, mohli jsme pro večerní setkání použít jídelnu, v níž byly k dispozici sklenky na víno a na čaj, čajová konvice a výběr několika druhů čaje.